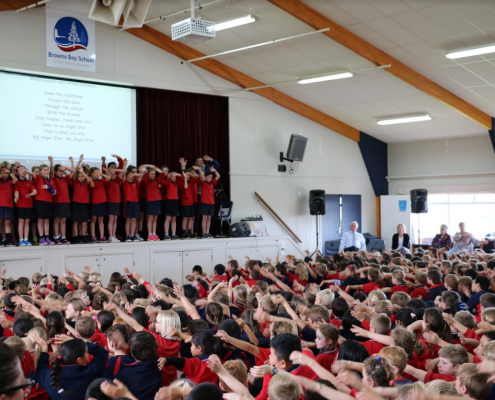 Chris Sanders has visited dozens of New Zealand Schools, Kindergartens and Pre-schools since launching Angel Star in October 2016. Getting to meet a real author is a great experience for child and when that author also happens to be a singer-songwriter / guitarist then it's a real hit!
Angel Star Children's book and #1 Hit song is very popular with the Children who you will find singing along with Chris during his performance.
And Chris' new release 111 Ambulance Song is set to be another hit with the kids.  The song was written as part of the ASB St John in Schools Education Programme and will be used to help teach kids the New Zealand emergency number and how to react in an emergency.
A visit from Chris can take several forms depending on the age of the Children and the requirements from the school. From a simple performance and book reading to talking to the Children about how to publish a book or song and the different stages of taking an idea and turning it in to a tangible product to sell.
Alternatively if St John New Zealand are visiting your school Chris can combine their visit with a live performance too!
To book Chris direct simply fill out the contact form at the bottom of this page.
"Thank YOU so much for taking the time to come and visit us. The children thoroughly enjoyed your performance. It is so wonderful for the children to be able to meet a "real author", and when that real author also happens to be a singer/songwriter then you have automatically captured a large portion of the audience – most children love either music or stories, if not both! I know Angel Star made its way onto a lot of wish lists."
Chris Sanders worked closely alongside us here at Browns Bay School for the launch of his book, 'Angel Star.'  He sang with our students on a couple of occasions leading up to the actual event and related extremely well to both the children and their teachers.  It was immensely valuable for our students to see Chris in action and for them to see what he has accomplished in terms of songwriting and recording.  The collaboration was a worthwhile and enjoyable experience for us all.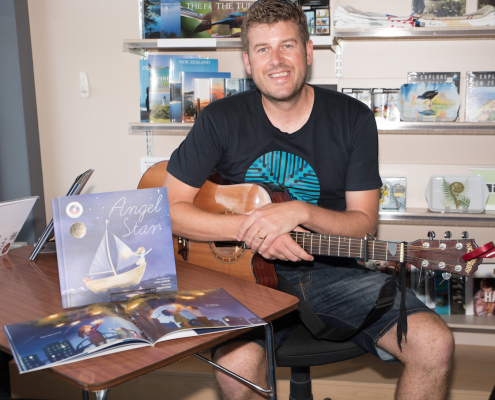 Who is Chris Sanders?
Chris is a multi-talented guy.  With a Bachelor of Business Degree in Marketing from Massey his first job out of University was as Marketing Manager at Butterfly Creek. Chris set up all the marketing systems and School education programs when Butterfly Creek first opened its doors.
Teaching and sharing knowledge is a passion of Chris and he has since gone on to mentor over 400 business owners and speak at conferences about Marketing. He owns a number of successful businesses in the Cosmetic industry along with his wife Rachael D'Aguiar, who was voted as one of the top 5 business women in NZ in 2016 Pandora Next Magazine Awards.
Being a self-employed entrepreneur has given Chris the time he needs to follow his passion for writing and music. He has performed over 1900 live shows over the last 17 years including support acts with musicians such as Tim Finn, Anika Moa and Goldenhorse.
In 2016 Chris set up Angel Star Publishing House, the first release being Angel Star Children's book and #1 hit Children's song. He loves performing and speaking to Children helping to inspire them to achieve their goals and dreams in life!
Kindergartens or Pre-Schools
Visit includes:
Performance of Angel Star and/or 111 Ambulance Song on guitar
A reading of the story by author
Questions and comments from the Children
Visit duration approx. 20-30 mins
Primary Schools
Visit includes:
Performance of Angel Star and/or 111 Ambulance Song on guitar
A reading of the story by author (on request)
Viewing of the Angel Star and/or 111 Ambulance Song animated video (on request)
In addition to Chris' performance and reading a visit can be structured to suit your needs. Chris can talk on subjects including:
Publishing a Book
How to develop an idea in to a tangible book
Using experts to help you make your book
When you have a finished book, where and how do you get it made?
How do you tell people about your book? (Marketing & Public Relations)
How do you get people to buy your book and where? (Distribution)
The relationship between Author, distributor, retailers and customers
What rewards can you expect to get from your publishing your own book
The talk is fun, educational and a great opportunity to do further learning in class after Chris' visit. There will also be time for question and comments from the Children.
*If you are an overseas school Chris is happy to talk to the class via Skype.
You may wish to have Chris visit your School or Kindergarten as part of the ASB St John in Schools Programme
The ASB St John in Schools programme provides learning experiences for pre-school, primary and intermediate school aged children to empower them to act in an emergency. Community Educators visit schools across New Zealand to provide young people with the skills and confidence to take action in response to an emergency situation. The programme values children of all ages and recognises their ability to make a difference in an emergency situation.  CLICK HERE to contact St John New Zealand or fill out the form below.
Kindergartens & Pre-schools Visited To Date:
Oaktree Kindergarten
St Helier's Glendowie Kindergarten
Grey Lynn Kindergarten
Birkenhead Kindergarten
Henderson Kindergarten
SPACE Mt Eden
SPACE Hillsborough
Coastesville Early Learning Centre
Taiaotea Kindergarten
Kids at Play Mt Eden
Discoveries Educare Browns Bay
ABC Kids Albany
Gardner Rd Kindergarten
Primary Schools Visited To Date:
Browns Bay Primary School
Bayswater Primary School
Campbells Bay School
Point View Primary
Takapuna Primary School